Gateway
Akiles Gateway creates a private BT5 network to communicate with up to 25 Akiles devices at a time, and provides them with connectivity to the Akiles Cloud via LAN or 4G.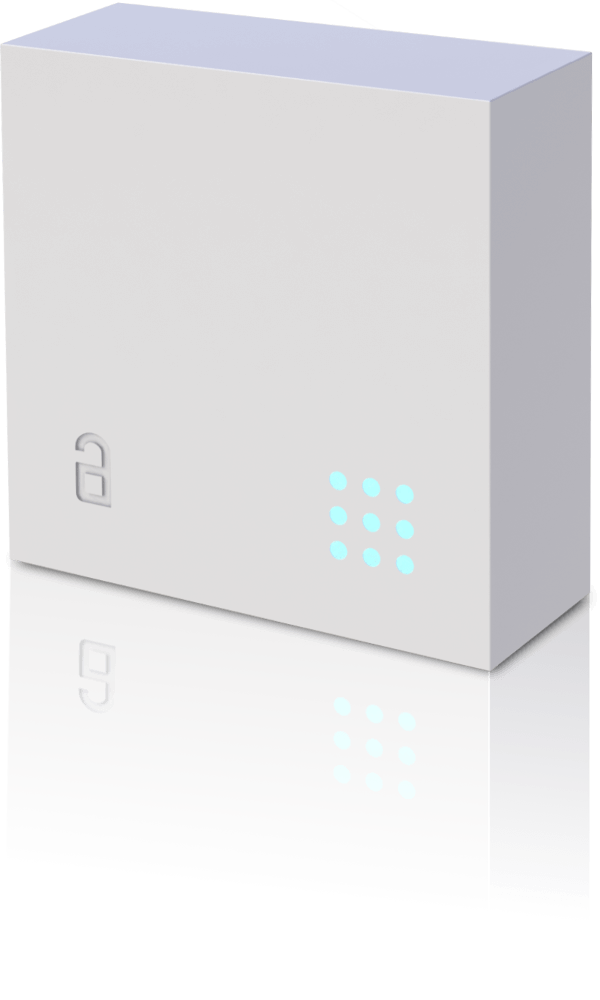 Proprietary BT5 network
Why do Akiles devices use BT5 and not Wifi?
BT5 is low power, Wifi is not.
Thanks to Akiles Gateway we do not depend on Wi-Fi and the batteries of the devices last much longer.
Akiles' BT5 network is stable.
In a Wifi network, someone can change the password, turn off the router or reconfigure it.
Akiles' BT5 network is private.
In a Wifi network someone with access to the network can see the traffic, with Akiles nobody who has access to the Wifi can see anything.
Connectivity
Between devices
BT5 Long Range (40 m indoor)
Internet
Ethernet, LTE CAT-M, NB-IoT, GPRS
With your smartphone
BT4.X (Low energy)
Number of devices
Up to 25 connected devices
Seguridad
Actualizaciones automáticas (OTAs)
Se actualiza periódicamente el firmware de los dispositivos con las últimas funcionalidades y mejoras en seguridad, sin ningún tipo de afectación del servicio. Tus accesos se mantendrán seguros y actualizados.
Comunicaciones x2 encriptadas
Seguridad extremo a extremo en todas las aperturas, con encriptación agnóstica a la capa de transporte, tipo de instalación y método de acceso.
Technical spec
Mounting

Standalone/Wall (optional).

Dimensions

62 x 64 x 25 mm

Signaling

1 indicator light (RGB LED).

Power Supply

5V DC (Consumption < 1W).

Material

ABS V0 Polished

Color

White RAL 9016.
Connectivity

BT (5.0, 4.x). ADSL/Fibre (Ethernet via router).

Ports

1 Ethernet port (RJ-45 connector). IEEE 802.3 compliant, 10-BASE-T

Firmware updates

Over-the-Air (OTA).

Temperature range

+5..+45ºC.

Relative humidity range

10..90% (non-condensing).

IP grade

IP20 (Exclusive indoors use).