Pinpad
Akiles Pinpad is an electronic keyboard lit that can function as a local keypad (controls access directly) and remote keypad lit (delegate opening to another Akiles device in the installation).

Access methods
App/Web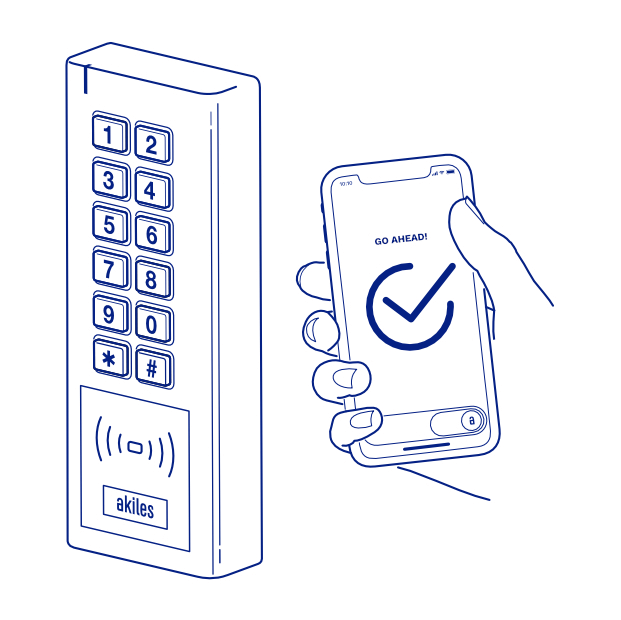 The app allows remote access via a smartphone with an internet connection, or locally via BT5 without an internet connection.
NFC card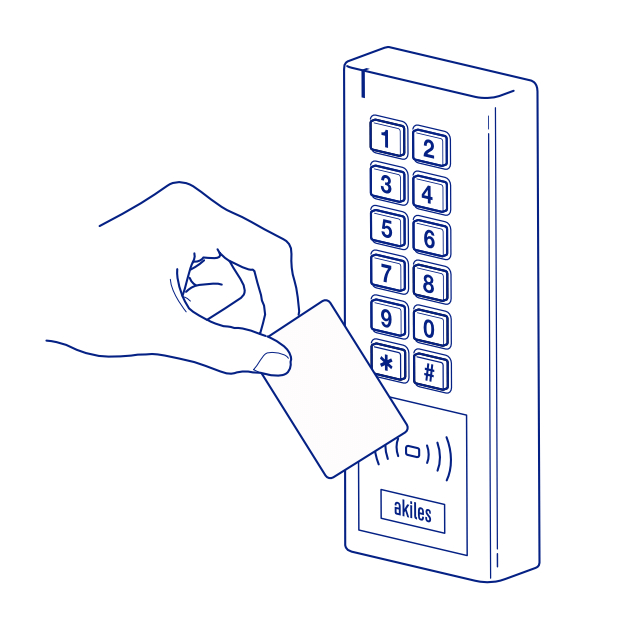 Akiles customizable cards only contain the identification of the user, never any related information about the access, guaranteeing full traceability against copies.
Pin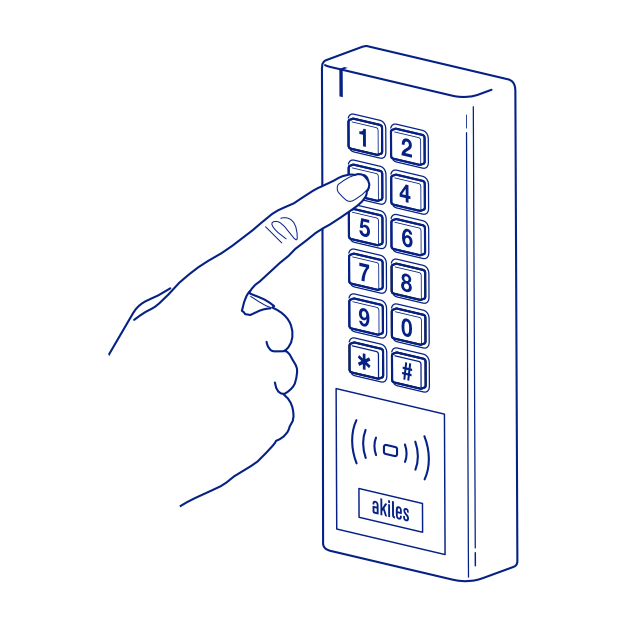 Configure as many pins per user as you want, remotely. They will serve in case of not having access to any mobile phone or card.
Operating modes
Local
Akiles Pinpad is wired directly to an electric lock/automation, acting autonomously without the need of an Akiles Controller.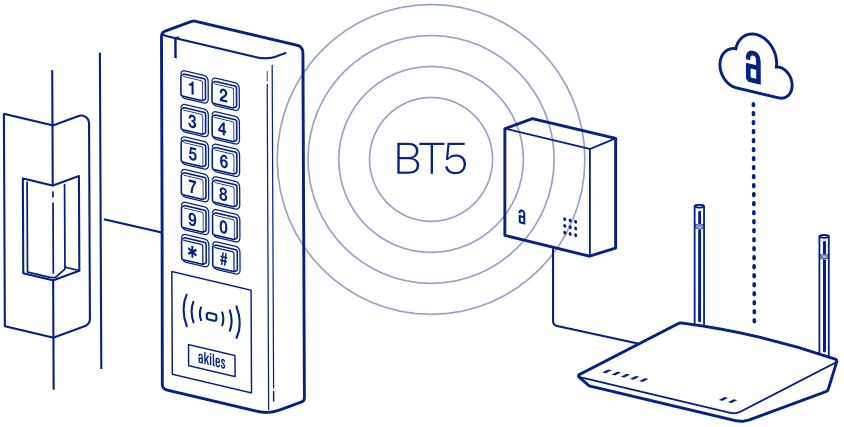 Remote
Akiles Pinpad controls wirelessly (BT5) another Akiles device (Cylinder/Controller).


Batteries
Alimentación (fuente)
Akiles Pinpad es un dispositivo que puede alimentarse bien mediante fuente de alimentación o en su defecto puede estar operado a baterías.
Battery status
We let you know when the batteries start to get low. You can also check the battery status from Akiles Cloud.
Low power
Up to 2 years of life making 10 daily openings.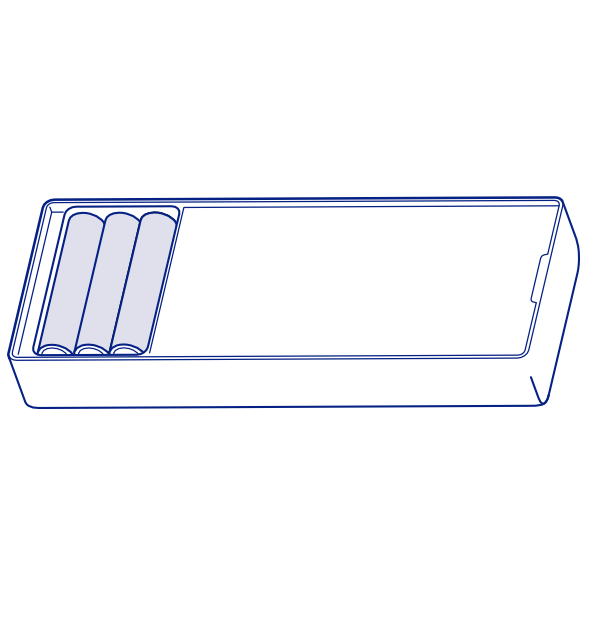 Connectivity
Online
Akiles Pinpad communicates to the Akiles Cloud through an Akiles Gateway, keeping access permissions synchronized whenever it is online.
Offline
In case of eventual loss of connection, Akiles Pinpad allows offline openings through the App / BT5, NFC cards or through a pin code.
Security
Real time alerts
John Doe has opened Street Door
Wherever you are, you will receive real-time notifications when someone opens your door or gives permission to a third party to open it.
Access logs
| User | Location | Device | Where |
| --- | --- | --- | --- |
| John Doe | Akiles Office | | 1 minute ago |
| John Doe | Akiles Office | | 1 hour ago |
| John Doe | Akiles Office | | yesterday 10:09 |
You can check it on Akiles Cloud, always, without restrictions.
Automatic updates (OTAs)
The firmware of the devices is periodically updated with the latest functionalities and security improvements, without any type of impact on the service. Your access will be kept safe and updated.
Encrypted communications x2
End-to-end security in all openings, with transport layer, installation type and access method agnostic encryption.
Technical spec
Access

By App (smartphone), NFC card pin code between 4-20 digits (keypad).

Modes (Internet)

On-line (connected to the Internet) and off-line (no connection to the Internet).

Modes (local/remote)

Local keypad lit (controls access directly) and remote keypad lit (delegates opening to another Akiles device in the installation).

High-security NFC

MIFARE® DESFire® EV2 / MIFARE® DESFire® Light.

Signalling

1 RGB LED (status ), 12 white LEDs (keypad baclight) and buzzer.

Sensors

Capacitive proximity sensor, Anti- tamper, 1 input for push button (exit button) and 1 input for door sensor.

Power supply (batteries)

3 x alkaline batteries 1.5V LR03 AAA (3 V < Vbat < 4.8 V).

Battery life

≥ 2 years (10 operations/day. 3 x AAA alkaline 1200 mAh).

Power supply (mains)

12 V AC/DC and 24 VDC (±10%). Consumption <1W. If both are present (mains and batteries), the device will be powered through the mains.
Connectivity

BT (5.0, 4.x). Internet through GWE/ CE/CM Akiles.

Switching capacity (device only powered from one source)

1 miniature relay (potential-free). Maximum 30V @ 2A. Connection to electric lock.

Access restrictions

By user, by facility access/device, temporary restriction (timetables), geolocation.

Firmware updates

Over-the-Air (OTA).

Materials

Zinc alloy / ABS

Dimensions

56 x 148 x 22,5 mm.

Temperature range

-10..+55ºC.

Relative humidity range

10..90% (non-condensing).

IP Code

IP65.